6 Must Do's (& Must-DON'Ts) for Trade Show Marketing
If you're new to exhibiting, trade shows can seem intimidating and full of complicated details. 
Exhibitshub is here to make this process easier by saving you time and money when it comes to your exhibit planning and booth selection. We'll get you to the trade show floor, but after that, it's up to you and your team to attract new leads and create the right impression. We've put together some tips for how to make the most of your exhibiting experience. 
You'll also learn the #1 thing that most businesses engaging in trade show marketing get wrong.
Read on… some may surprise you!
1. Don't 'wing it' with your exhibit staff.
The cost per hour to exhibit is staggering, so it's essential your exhibit staff is thoroughly vetted and briefed in advance of the show. 
Whether your goal is to recruit new employees, meet potential new clients, or share new information and products, your team should represent different disciplines inside your company (senior management, technical, sales, marketing). They'll need to clearly understand (and be confident in) the show objectives, audience, products, exhibit and be able to quickly and succinctly qualify prospects, articulate the value-proposition, record data and close the conversation with next steps.   
 Tip: Host a pre-show briefing for all staffers.
2. Don't 'pitch' more… QUALIFY more.
Research shows that the number one reason attendees go to trade shows is to see-experience "what's new" all in one place. Since attendees' time is very limited, prospects visit a "hit list" of exhibits they want to see on any given day. 
Provide your staff with a few key questions to open prospect discussions and suggest ways to steer the conversation to align with your goals. Questions that dig a little deeper include: "What's your industry background?" and "What resources at this show have impressed you and why?"
 Tip: First question to ask a prospect: "What brings you to the show today"? 
3. Don't engage without an ice-breaker.
Trade shows are noisy, busy, and crowded places. That means it's difficult getting the attention of prospects.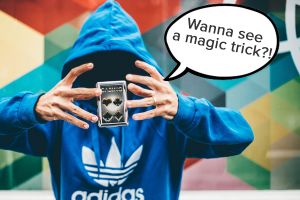 Rather than yelling across the aisle like a carnival hawker, you need an ice-breaker to engage prospects. Get creative and think about what would interest you, if you were walking the aisles. We've all seen a prize wheel – they are great attention-grabbers – they attract crowds but not always the right prospects. Your ice-breaker should be brand-specific. 
 Tip: Ice breakers can be a 3D tool, game, graphic, or even a food item.
4. Don't push lead 'quantity' – push QUALITY.
Want to know the #1 thing that most businesses engaging in trade show marketing get wrong? 
Most trade show leads end up in not being followed-up on because they are incomplete, inaccurate, or both.  
Therefore, it's essential that your booth staff be prepared to engage and qualify prospects first, and not jump immediately into a rehearsed sales pitch. For example, instead of starting with showcasing your latest product, ask the prospect what attracted them to your booth, or what kinds of business solutions they're looking for at the trade show.
Their answers to your questions will help you to know whether it's appropriate to steer the conversation toward your goal, or to end the conversation naturally. They came to your booth because it was attractive to them, and they will stay to hear about what you have to offer, especially if you take the time to get to know them and their needs. Doing this will protect your limited time and show that you respect your prospect's time as well.
Tip: 80% of the prospect discussion should be qualifying and information-gathering, 20% should be selling. 
5. Don't underestimate the final hours of a show
It's natural for your exhibit staff to decompress the last hour of any show. You've been on your feet for 10 hours, taking up a lot of brain power by engaging in cold conversations with total strangers. Your team is ready to call it a day and let their guard down. Don't let them. Top prospects often wait until the final hours of a show to do their most serious shopping. Why?
They've had time to scout exhibits and vet the ones to revisit to learn more about a product/service. 
Founder Chris Kappes illustrates this with a personal story:
"It was the final hour of an industry trade show and a contingent of 5 Microsoft executives entered the exhibit to learn about my company.
After some discussion, I learned that a major RFP was going to be issued and they invited us to participate. Long story short, we ended up winning the multi-million RFP and it all started the last hour of a show."   
Tip: Hand-out energy bars-drinks to your exhibit staff the final hours as a reminder that they need to be at the "top of their game" for the big hitters. 
6. Don't close each show day without a team recap & follow-up plan
In the heat of a trade show, leads are recorded and turned over to an administrator to process for field follow-up. 
To ensure the quality of your leads, it's important that your exhibit staff meet at the close of each show day to review and update leads for accuracy and completeness. 
Talk through any names on your new leads list that seemed more promising, and briefly discuss some ideas of how to best follow up with them and serve them. Point out any names that seemed like they wouldn't be a good fit for your business. This will keep your lead list trim, focused, and way more effective. 
Tip: Host a daily post-show recap to review show leads. 
 Trade show strategy is more than just branding and designing your exhibit. Your ideal strategy will include everything from the planning, to the staff, to the way you communicate with prospects during and after the show. We've walked you through a few key points – here's a recap and how it should fit into your timeline.
Before the trade show: plan your exhibit with Exhibitshub, recruit the perfect team, establish a clear goal/objectives for the show, and plan to have a memorable icebreaker. 
When you're at the show: qualify your leads and make sure you have plenty of energy, right up to the final minutes of the show. 
After the show: follow up with your leads. Remember, the more you qualify your leads during the show, the easier it will be to follow up with them!
Watch for more tips from Exhibitshub, a sharing marketplace for trade show exhibits and resources that save marketers time and money, all while helping to save the environment. 
Join the Exhibit Better community today
Enter your name & email to become a part of the 'Exhibit Better' community.
Each month you'll receive the most up-to-date tips & strategies to grow your business through exhibiting.